Today is a 2 for 1 post. This delicious chocolate chip cookie recipe that I made for the  Crazy Cooking Challenge contains many ingredients found in a well stocked pantry.
When I saw that this month's challenge was chocolate chip cookies I knew right away what recipe I wanted to try. I had featured the recipe back in May on one of my recipe round ups. The Best Chocolate Chip Cookie Recipe Ever from Amanda's Cookin'
Soft and chewy chocolate chip cookies are my favorite and these definitely fit the bill.  I made my cookies  between the regular size and jumbos Amanda had made and got around 36 cookies.
Chocolate Chip Cookies

Ingredients:

1/2 cup (1 stick) softened unsalted butter
1/2 cup shortening
3/4 cup granulated sugar
3/4 cup packed brown sugar
1 teaspoon vanilla
2 eggs
2 1/4 flour
1 teaspoon baking soda
1/8 teaspoon baking powder
1/2 teaspoon salt
1 (3.4 ounce) package of instant vanilla pudding
12 ounces of chocolate chips.

Directions:

Preheat oven to 350 degrees.

Beat the butter, shortening and sugars using either a hand or stand mixer until fluffy. Add in the vanilla and beat until fluffy again. Add eggs one at a time, mixing completely between additions.

In another bowl whisk together the flour, baking soda, baking powder, salt and instant pudding mix. Add to the sugar mixture and mix on low speed or by hand until incorporated.

Stir in the chocolate chips by hand.

Drop by tablespoonful on an ungreased cookie sheet. Bake in preheated oven for 9-12 minutes or until lightly browned. Cool on sheets for 5 minutes then remove to cooling racks to cool completely
For more cookie madness click below.
Powered by Linky Tools
Click here to enter your link and view this Linky Tools list…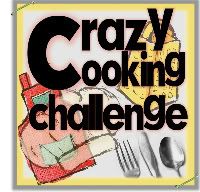 For more of my 31 Days to Everyday Deliciousness Series click below.
---
I love comments and read each one I get
Sign up for updates via email or RSS. It's free and easy. You can also find Cookin' Mimi on Twitter or on the Facebook Fan Page
[tweetmeme source="cookinmimi" service="wp.me"]
---