Originally published May 24, 2009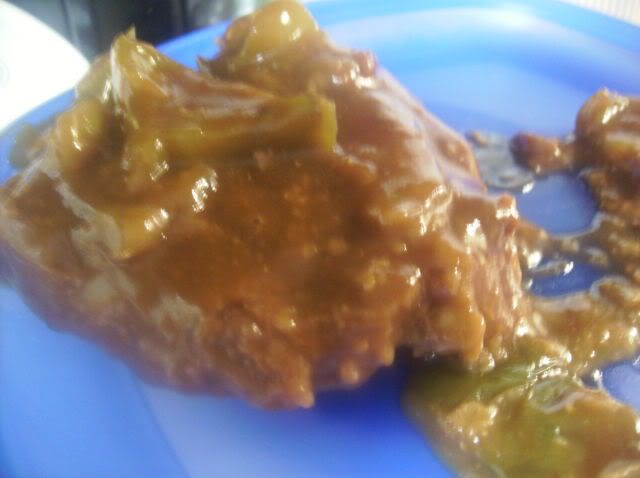 This is definitely comfort food at it's finest for me. Cube steak is something that I don't cook too often but always adore it when I do. This is my favorite way of preparing it. Some people like cube steak with a white gravy which is also known as pepper or sawmill gravy but I prefer it with brown gravy.
Steak with Onions and Peppers

Cube steaks with onions and bell peppers simmered in brown gravy.

Prep time: 15 minutes

Cook time: 45 minutes to one hour

Yield: 4-6 servings

Ingredients

4-6

cube steaks

1/2 – 3/4 cups

all purpose flour

To taste

seasoned salt

To taste

black pepper

2 Tablespoons

oil

1

green bell pepper cut into chunks

1

onion, cut into chunks

4 1/2 Tablespoons or 1 1/2 1 cup packets

brown gravy mix

1 1/2 cups

water

2 teaspoons

Worcestershire sauce

Cooking Directions

Heat oil in large skillet over medium heat. Add seasoned salt and pepper to flour. Coat steaks in flour and add to hot oil cooking until browned on both sides. Remove steaks.

Add more oil if necessary, the add onion and bell peppers. Cook until onions have softened.Place steaks back in skillet.

Put gravy mix in a bowl and add water and Worcestershire sauce. Stir to combine. Pour over steaks and onion/pepper mixture.

Bring to a boil. Cover and lower heat. Simmer for 45-60 minutes or until steak is tender. Serve with mashed potatoes, egg noodles, or rice.
---
Did you like what you read? Leave a comment, I love hearing from you or share the post with your friends.
Did you know you can sign up for updates via email or RSS? It's free and easy. You can also find Cookin' Mimi on Twitter or on the Facebook Fan Page
---