I'm not usually one to jump on the latest food trends mostly because a lot of them don't appeal to me. Biscoff  is one bandwagon I will quite happily leap onto. I actually bought my very first jar of Biscoff just for this recipe and it will not be my last.
I was excited to see the theme for this month's Crazy Cooking Challenge was cheesecake because it's one of my favorite desserts. It took me quite awhile to settle on a recipe because I wanted something simple and fairly inexpensive. No bake or slow cooker baked would be a bonus since it is crazy hot here in Alabama.
I found the perfect recipe on the fabulous Mommy's Kitchen. If you haven't been to her blog you should stop by. Tina is one of my oldest and dearest blogging friends and has amazing recipes.
This cheesecake is easy to put together and if you have kids you can let them decorate the top with the melted Biscoff. My niece and nephew were visiting so I let them do that part and they loved it.
A couple of notes, I don't own an entire springform pan so I baked mine in a foil lined 9 inch regular cake pan. Alton Brown suggests using parchment paper but I forgot to buy it so I used foil and it turned out fine and was easy to get out of the pan. Also, it's better if all the ingredients for the cheesecake are room temperature when beating so I just put the eggs and cream cheese in warm water for a few minutes to warm them. I would suggest putting the cream cheese still in the foil in a plastic bag to prevent any water getting on the cheese.
Slow Cooker Biscoff Cheesecake
A cheesecake made with creamy Biscoff baked in a slow cooker and drizzled with melted Biscoff.
Prep time: 20 minutes
Cook time: 2-3 hours
Total time: 10 hours including chilling
Ingredients
40

Vanilla Wafers

4 Tablespoons

butter, melted
For the Cheesecake:
2 8 ounce blocks

cream cheese, softened

3/4 cup

sugar

1/2 cup

creamy Biscoff Spread

3

eggs

1 teaspoon

vanilla

3 Tablespoons

Biscoff spread, melted for drizzle
Cooking Directions
For the crust:
Crush the vanilla wafers in a food processor or blender until fine crumbs, blend with melted butter and press into bottom of a 9 inch springform or parchment lined 9 inch round cake pan.
For the cheesecake
In the bowl of a stand mixer or large mixing bowl, beat the softened cream cheese and sugar. Add in the Biscoff, and the eggs one at a time, beating until incorporated. Add the vanilla and continue to beat for 3 minutes for a smooth mixture.
Pour the filling over the crust. Add 3 cups of water to slow cooker and place cheesecake in insert. I used a 6 quart round and ended up having to place a heat proof mug in the bottom to ensure the pan fit without getting stuck.
Cover and bake for 2-3 hours on high or until knife inserted near the center comes out fairly clean and cheesecake doesn't jiggle.
My cheesecake was done right around the 2 hour mark but if you're using a small slow cooker it will take a bit longer.
Remove from slow cooker and let cool on wire rack for 30 minutes then refrigerate for at least 6 hours.
Drizzle with melted Biscoff 1 hour before serving.
Store in refrigerator.
Final verdict: The cheesecake is amazing. Not too sweet and the Biscoff helps cut some of the tang that some people don't like. This will be made again.
If you're new to the Crazy Cooking Challenge it is a monthly link up hosted by Tina of Moms Crazy Cooking where bloggers share the nearly endless variations on that month's theme food. Past themes have included chocolate chip cookies, blueberry muffins, and macaroni and cheese.
For more information click on the button below: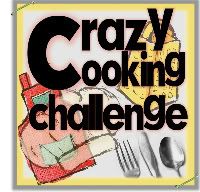 To see all of this month's participants click below.
Powered by Linky Tools
Click here to enter your link and view this Linky Tools list…
Also linked to Crazy Sweet TuesdayStrut Your Stuff Saturday