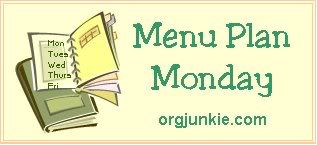 I haven't done this in awhile at least not online. I do make a menu plan every week even though I may not always follow it. Since summer temps are in full swing here in the deep south I am trying to use the oven as little as possible and will be cooking a lot in my slow cooker or grilling when I can. With out further delay here is my menu for the next week.
Monday the 15th:
Asian style pork roast with mashed potatoes.
Tuesday the 16th:
Baked Spaghetti with Italian Cheese Bread
Wednesday the 17th:
Chef Salad- that is grocery shopping day and I do as little as possible cooking wise on grocery day.
Thursday the 18th:
Barbecue chicken nachos
Friday the 19th:
Tacos
Saturday the 20th:
Breakfast for dinner: oven baked pancake, bacon, sausage, fruit.
Sunday the 21st:
Cook out for Father's Day- burgers, hot dogs, potato salad, baked beans.
Breakfast will be cereal, toast, fruit and  oatmeal, Lunches will be sandwiches, leftovers, salads pretty much anything easy and no fuss.