A creamy smoothie made with pineapple, pineapple juice, and Greek yogurt. 
It's Crazy Cooking Challenge time again. For those who may not know it is a monthly challenge hosted Tina from Mom's Crazy Cooking  where the participants are assigned a general food such as chocolate chip cookies and are to find a recipe from another blog and make and blog it.
This month I had the hardest time finding a recipe to make. I have this weird habit when it comes to yogurt. While it's one of my favorite things to eat I don't really like it in anything. Just give me the yogurt and a spoon and I'm a happy camper.
After seeing the Sunny Hawaiian Smoothie on Daily Dish Recipes I knew I was going to set my quirk aside because I love pineapple. The only planned change I made was omitting the bananas because I find the flavor to be overpowering in a smoothie.  Nicole's original recipe called for crushed pineapple and orange juice but I grabbed pineapple chunks in juice. That turned out to be a good thing since the o.j. I thought was in the freezer wasn't there.
I used Greek yogurt for the very first time in this smoothie. I was able to find yogurt with pineapple in it but if you can't vanilla will work.
Creamy Pineapple Smoothie
Ingredients
1 1/2

cups

pineapple chunks in juice

, drained- reserve the juice

1/2

cup

pineapple juice

6-8

ounces

pineapple or vanilla Greek yogurt

1

or 2 frozen bananas

, sliced I didn't add these to mine

Ice

, as desired for thickness

To taste sugar or honey
Instructions
Combine the pineapple, juice, bananas and yogurt in a blender. Blend until smooth.

Add ice, a little at a time, blending until desired thickness is achieved. I used about a cup. Add a little sugar or honey for sweetness if needed
Final verdict: It was awesome. The flavors were perfect, the yogurt lent a slight tanginess in the background and I loved the creaminess it added. I will definitely make this again.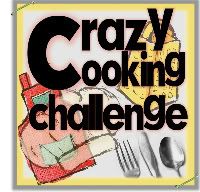 Powered by Linky Tools Click here to enter your link and view this Linky Tools list…
Past Crazy Cooking Challenge Recipes: