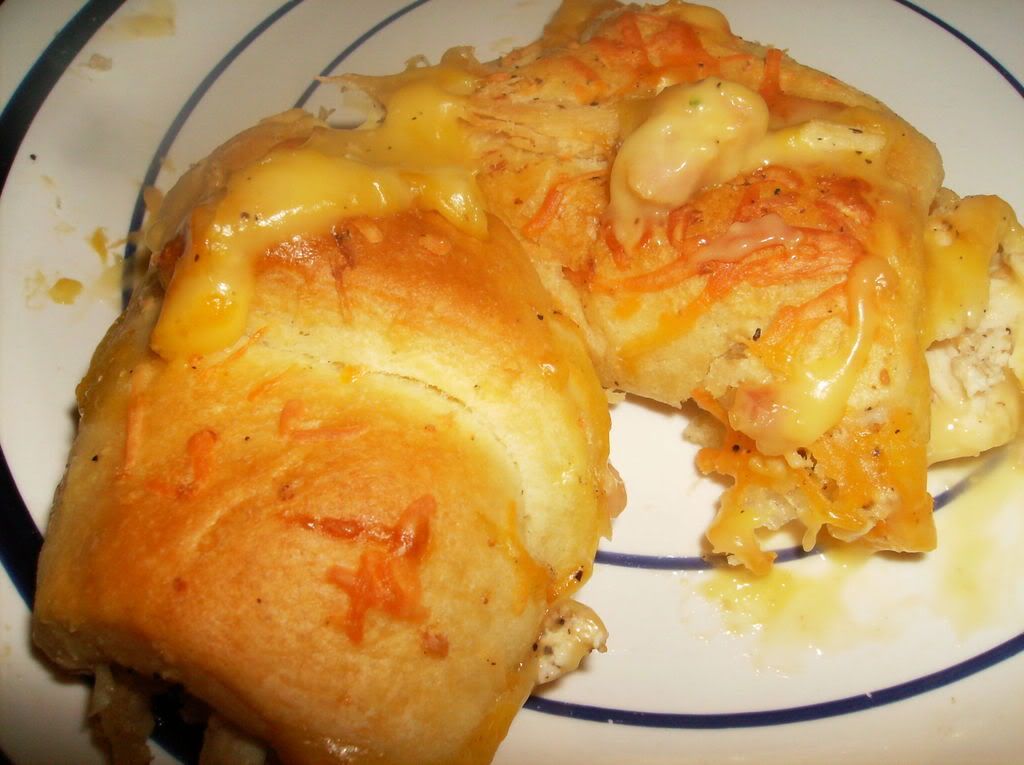 This is a pretty simple recipe and could be adapted in a few ways to suit your family's taste very easily.
Cheesy Chicken Roll Ups

Cheese and chicken in rolled up in pastry and baked with a creamy gravy.

Prep time: 15 minutes

Cook time: 25 minutes

Total time: 40 minutes

Yield: 6-8 servings

Ingredients

1 cup

shredded cooked chicken

1/2-3/4 cup

shredded cheese

1/4 teaspoon

garlic powder

1/4 teaspoon

onion powder

1/4 teaspoon

black pepper

1 can

crescent rolls

1 10.25 ounce can

cream of chicken soup

Cooking Directions

Pre heat your oven to 350 degrees.

Open can of crescent rolls, separate into triangles and place on clean cutting board/plate/baking sheet. Mix together chicken, cheese and seasonings. Place a couple of tablespoons of the filling on the wide side of the triangle and roll up like you would to make crescent rolls.

Place in a 9×13 baking dish and pour cream of chicken soup around rolls. Bake for 15-25 minutes or until rolls are baked and everything is bubbly.

Variations: For a Mexican style casserole use Pepper Jack or a Mexican blend cheese and add a small can of diced green chilies to the soup. You could also make it a bit more on the Italian side by using Provolone or Mozzarella cheese and adding some Italian seasoning. You could add some finely diced onion to the filling or any of your favorite dried herbs.

You could also use your favorite cream soup, they have some with herbs and roasted garlic is added to others. I think some of the condensed cheese soups would work also, just cut back a bit on the cheese in the filling
Did you like what you read? Leave a comment, I love hearing from you or share the post with your friends.
Did you know you can sign up for updates via email or RSS? It's free and easy. You can also find Cookin' Mimi on Twitter or on the Facebook Fan Page
[tweetmeme source="cookinmimi" service="wp.me"]