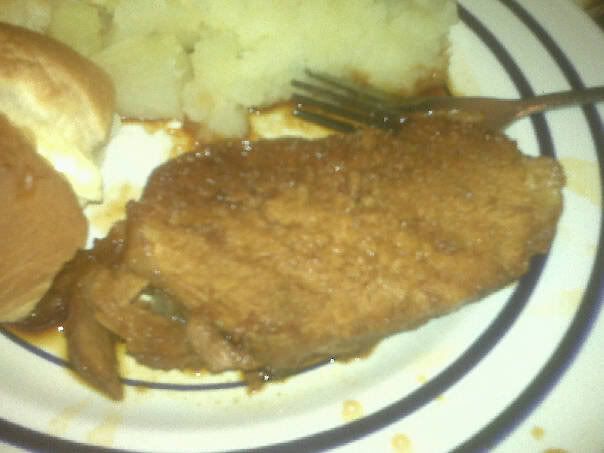 The picture isn't the best because I had to use my cell phone.
This recipe is beyond easy. It has two ingredients and cooks in a slow cooker.
Asian Style Pork Roast

A two ingredient slow cooker dinner. Super quick prep time which is perfect for busy days.

Prep time: 10 minutes

Cook time: 8 hours on low, 5 hours on high

Total time: 5 hours, 10 minutes to 8 hours, 10 minutes

Ingredients

3/4 to 1 cup

Mr. Yoshida's or your favorite teriyaki sauce

3 pound

boneless pork roast

Cooking Directions

Place roast in slow cooker liner. Pour sauce over and cover. Cook on low about eight hours or on high for four to five hours. Slice and serve juices from slow cooker over meat. To get the meat the color it is I sliced the roast then put it back in the slow cooker for a few minutes to really let the flavor of the sauce soak into the meat.

Chicken is excellent with the sauce for those who may not eat pork.
Asian Style Pork Roast Printable
I love comments and read each one I get
Sign up for updates via email or RSS. It's free and easy. You can also find Cookin' Mimi on Twitter or on the Facebook Fan Page
[tweetmeme source="cookinmimi" service="wp.me"]